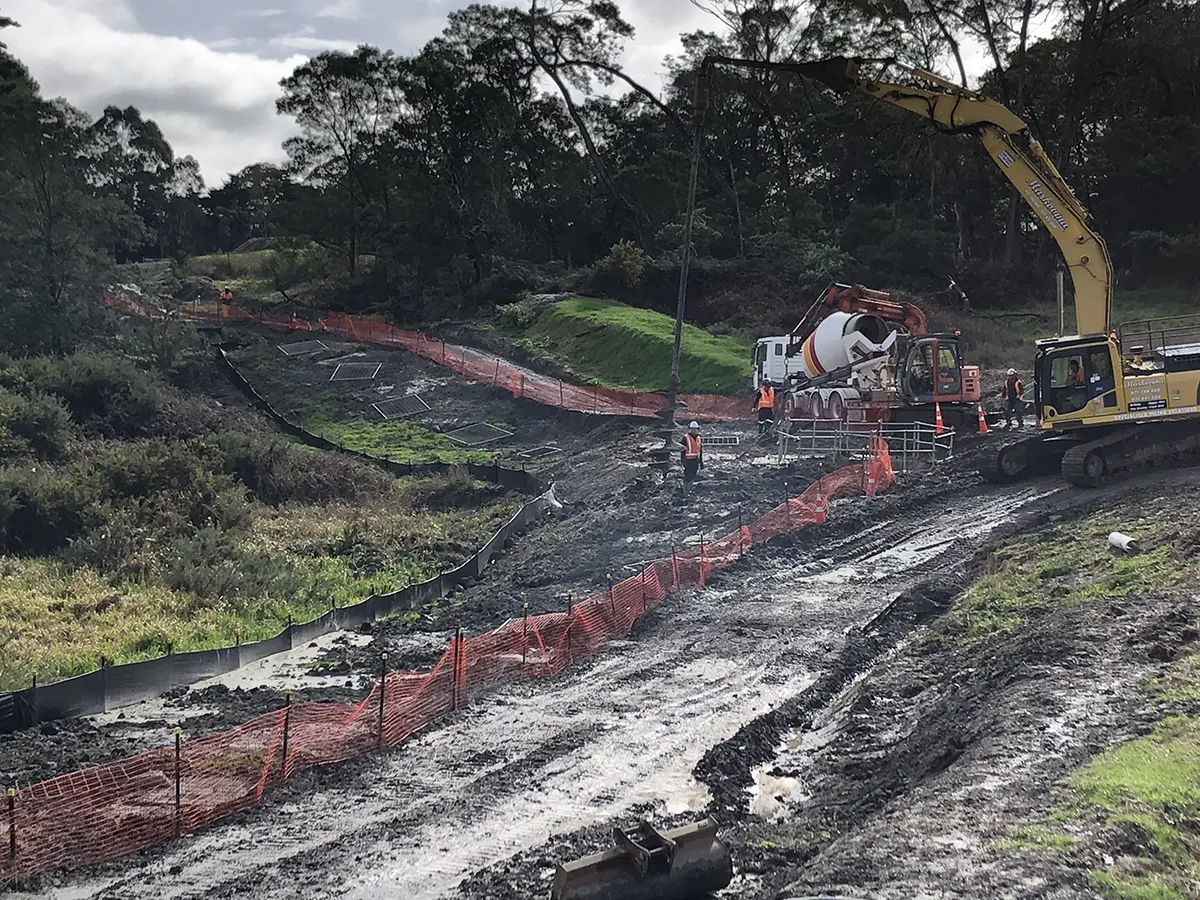 Redhills Wastewater Infrastructure Scheme
innovative underground pipe bridge design
To promote growth in the North-West region of Auckland Tāmaki Makaurau, Pipeline & Civil Ltd was commissioned to deliver the new wastewater scheme for the Redhills Special Housing Area, covering the new 1800m branch sewer in the Redhills valley, a pump station with underground storage tanks, a 700m long rising main, a 1400m long gravity sewer and a connection to the existing pump station on Northside Drive.
Unfortunately, as the scheme was being designed, two significant adjoining landslides were identified.  The proposed pipeline would run across these. That was a worry. Auckland Council wanted to be assured that such a critical wastewater pipeline running down the valley would be resilient in a 1 in 1,000-year earthquake event. The landslide mass was mapped as being approximately 8m deep, 200m wide and around 400m long. Initial investigations confirmed that without treatment the pipeline would be exposed to excessive stress and potential failure in an earthquake event.
A solution needed to be found to close the 230m gap in the trunk sewer.
Diverting the sewer around the landslide was considered but ruled out due to cost and consenting issues. Going under or over the landslide was not possible due to the need for a constantly falling grade.
The development was in an area of active landslides in soft Tauranga Alluvium with the contractor facing the challenge of having to stabilise a 300m long landslide on the alignment of a proposed underground pipeline. Clearly, smart Geotech wizardry was required.
how did we optimise, earlier?
We were commissioned for geotechnical design to stabilise of a section of the project which transects three separate zones with historical land instability issues.
To avoid the cost of stabilising the whole landslide, we developed a unique 'underground pipe bridge' to enable economic construction of the 6m deep pipeline to transect this active landslide. Our solution meant the pipe would be secure even if the landslide continued to move.
Using careful calibration of our geotechnical parameters and with state-of-the-art fully-coupled finite element analysis, we replicated a highly accurate model of the impact of rainfall on the affected slopes.  We then extended that modelling to quantify potential future displacements of the slope in the event of a dramatic increase in future rainfall based on the result of climate change.
Our optimised solution was a major win for all parties with substantial cost savings and a very significant reduction in both project risk and carbon footprint.

Slope model showing underground pipe bridge arrangement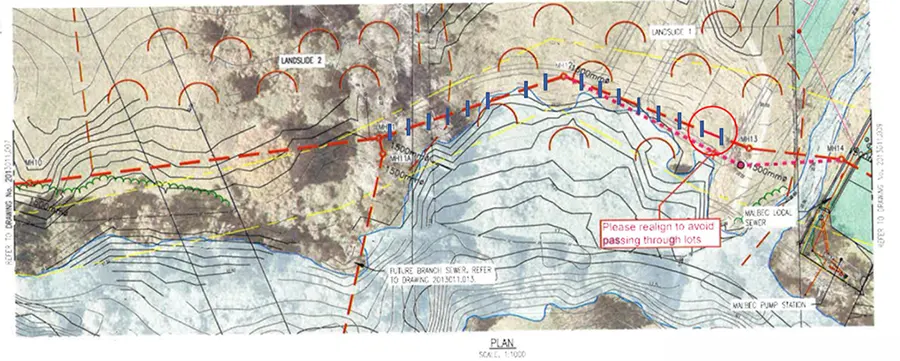 Plan view of site showing layout of stabilisation measures
expertise
location
project team
Andy and his team used cutting-edge software to design an 'underground pipe bridge' through a major landslide. To our knowledge, this solution has never been constructed before and saved over two years of project delays and millions of dollars.
Andy Corbett - Commercial Director, Pipeline & Civil Ltd